According to Statista, the projected outlook for smartphone users worldwide indicates a steady growth trend from 2024 to 2028, with an anticipated total of 496.7 million users, representing almost an 11% increase. In the first quarter of 2015, around 31.16% of website traffic came from mobile devices, while today, that number has spiked up to 58.33%.
In today's contemporary world, a lot of mobile users are completely relying on social commerce, artificial intelligence, and voice search to enhance their online experience. As much as this industry delivers promising prospects for engagement in partnership marketing, it also poses certain difficulties. 
Advertisers and brands banking on partnership marketing to reach their target audience need to use a partnership marketing platform that can give them total control. Most of them want the best results and good return on investment (ROI). 
In the current digital landscape, mobile applications have brought about a remarkable shift in how businesses engage with their customer base. Establishing a robust mobile presence is no longer just an option but a necessity for thriving in today's competitive environment. To truly unlock the potential of mobile app growth, enterprises require sophisticated solutions like Swaarm's Measurement and Analytics Platform (Swaarm MMP). 
This article delves into the ways in which Swaarm MMP can propel your app's expansion, fundamentally transforming the approach to measuring, overseeing, and enhancing your mobile marketing endeavors.
What is Swaarm MMP? 
The next-gen Mobile Measurement Platform made for marketers
"Given the acute growth in the App market in the past years and the projected annual growth rate (CAGR) of ~14%, there is a rising need for platforms that can help app marketers grow their user base, understand their user journeys, and unlock valuable insights from this data. Swaarm's MMP platform provides a one-stop solution for app developers and marketers to help achieve all this and more while keeping our core values of privacy, transparency, and automation at heart."

Yogeeta Chainani, Co-founder and CEO of Swaarm
Swaarm MMP is the ultimate all-in-one attribution and marketing analytics platform designed with marketers in mind. It offers a transparent and privacy-centric tracking solution that empowers advertisers to effortlessly oversee their partners, attribute users accurately, and access invaluable data-driven insights. Through seamless automation, Swaarm MMP not only streamlines your operations but also enhances your ability to make informed decisions and scale your campaigns effectively.
What sets Swaarm MMP apart?
Here is a quick overview of features that make Swaarm MPP distinct from other platforms available in the market. 
Analytics tools

Automated payments

Automation and customization

Campaign management

Comprehensive tracking

Code-less tracking

Effortless integration

Fraud detection

Privacy first

Transparent attribution
What are the benefits of Swaarm MMP?
Cutting-edge technology at your fingertips
Here is a list of the top benefits you get from using Swaarm MMP: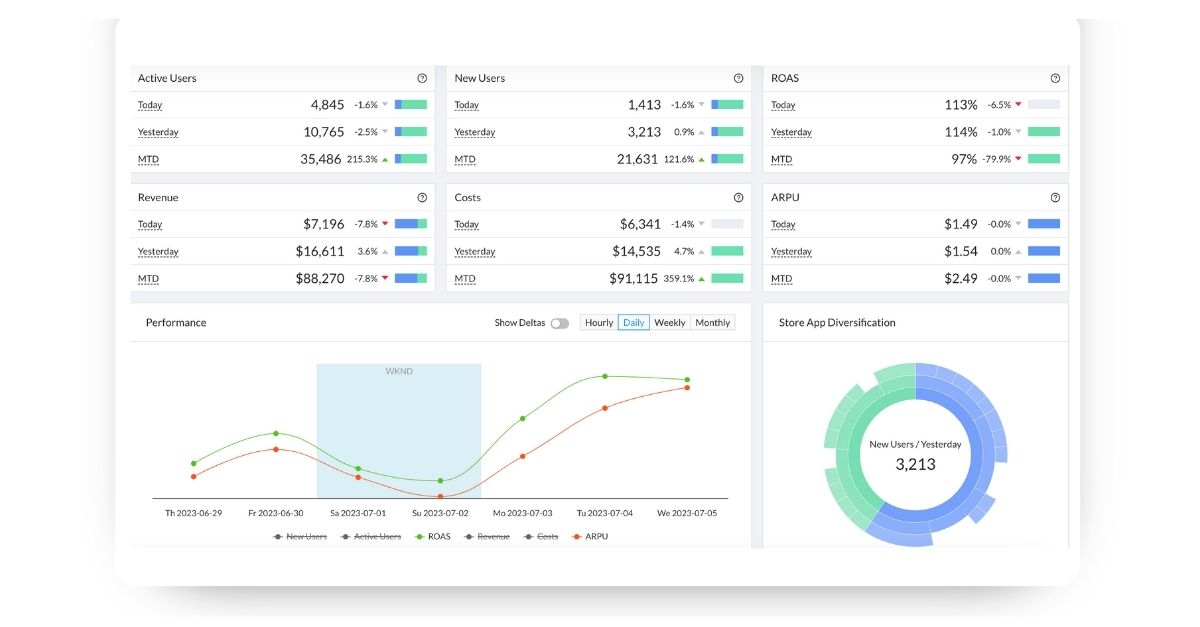 Swaarm MMP Dashboard
1. Maximize campaign success with data-driven insights
Data is key for companies that want to succeed in this competitive landscape of mobile apps. With Swaarm MMP, you get access to a robust set of tools that can help you to track everything. Apart from assessing relevant crucial data, you can also unlock valuable insights that are vital when it comes to making critical decisions. 
2
.
Code-less tracking for marketers
"Swaarm's MMP platform offers the first real-time code-less tracking solution for app companies, combining attribution and product analytics in a state-of-the-art SaaS platform. User Acquisition and Product specialists will be able to measure the impact of their actions in real-time without relying on the slow process of updating the app in the store thereby making small to medium companies more competitive in the app market."

Alexandru Dumitru, CTO & Co-founder of Swaarm
Tracking events and conversions shouldn't require coding skills. Swaarm MMP simplifies the process with code-less tracking. Marketers can effortlessly track events from their mobile apps via Swaarm's user-friendly interface. Swaarm MMP leads the industry with its codeless event tracking, enabling marketers to effortlessly track any app action with a simple click. It enables a brand's product and tech teams to focus on creating the best version of their app as against spending time on non-essential integrations.
3. Actionable attribution for informed decisions
It's important to have a clear understanding of the entire user journey in order to optimize your marketing campaigns. Swaarm MMP offers valuable attribution insights that allow you to follow every stage of your user's interaction with your app, starting from the first click, leading up to conversion, and following in-app events. 
By utilizing innovative campaign measurements, you will gain a deep understanding of which strategies are effective and which ones are not, ultimately leading to the most successful campaigns possible.
4. Advanced Privacy Suite for compliance
In today's environment, privacy compliance is crucial. Swaarm MMP leads the industry with its advanced privacy suite, ensuring that your advertising functionality remains compliant across all web and app environments. The best part? You can achieve this compliance without the headache of complex integrations. Swaarm simplifies the process, allowing you to focus on your app's growth.
5. All-in-one platform for efficiency
Efficiency is the name of the game, and our MMP delivers just that. Our all-in-one platform allows you to easily keep track of, measure, manage, and optimize all your partners on a single, centralized interface. It's the ultimate solution for maximizing your app's growth potential—no more juggling between multiple platforms – Swaarm streamlines your operations.
6. Fraud detection to build trust
In the realm of fraud prevention, the power to track everything lies in your hands. With Swaarm MMP you have the authority to define fraud according to your specific criteria and take a customized approach by integrating industry benchmark-based thresholds. This dynamic strategy empowers you to proactively detect and prevent fraud while adapting to your unique business environment.
7. Deeper insights with advanced analytics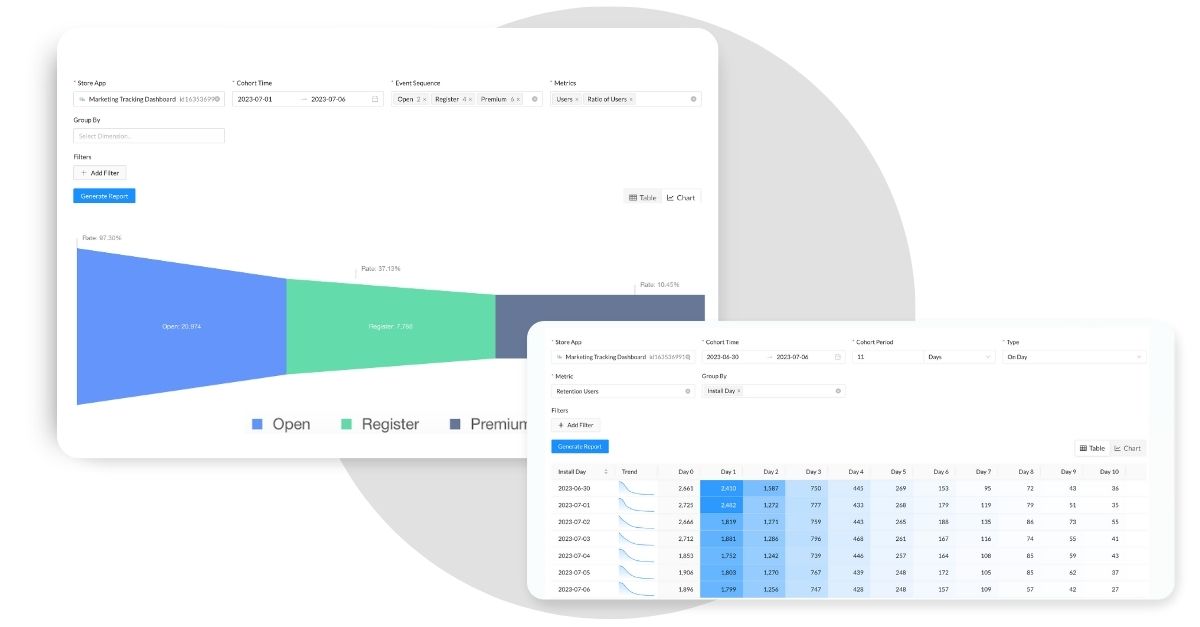 Granular analytics
Unlocking deeper insights into user behavior is essential for refining your marketing strategies. Our mobile measurement platform provides advanced analytics tools that allow you to gain a profound understanding of how users interact with your app. This knowledge empowers you to make data-driven decisions that lead to better engagement and retention rates.
8. Effortless integration for uninterrupted workflow
Swaarm MMP ensures smooth integration with any analytics dashboard, be it Tableau or Looker. This seamless connection frees up your data engineers and allows them to concentrate on product development and enhancement. Swaarm enables effortless access to your data, allowing it to flow smoothly.
9. Streamlined partner payments
Managing partner payments can be a logistical nightmare, but not with our mobile measurement platform. Our platform streamlines partner payments, managing everything from setup to disbursement. You can easily create and track partner payments in real-time, simplifying a complex process.
10. Full partner management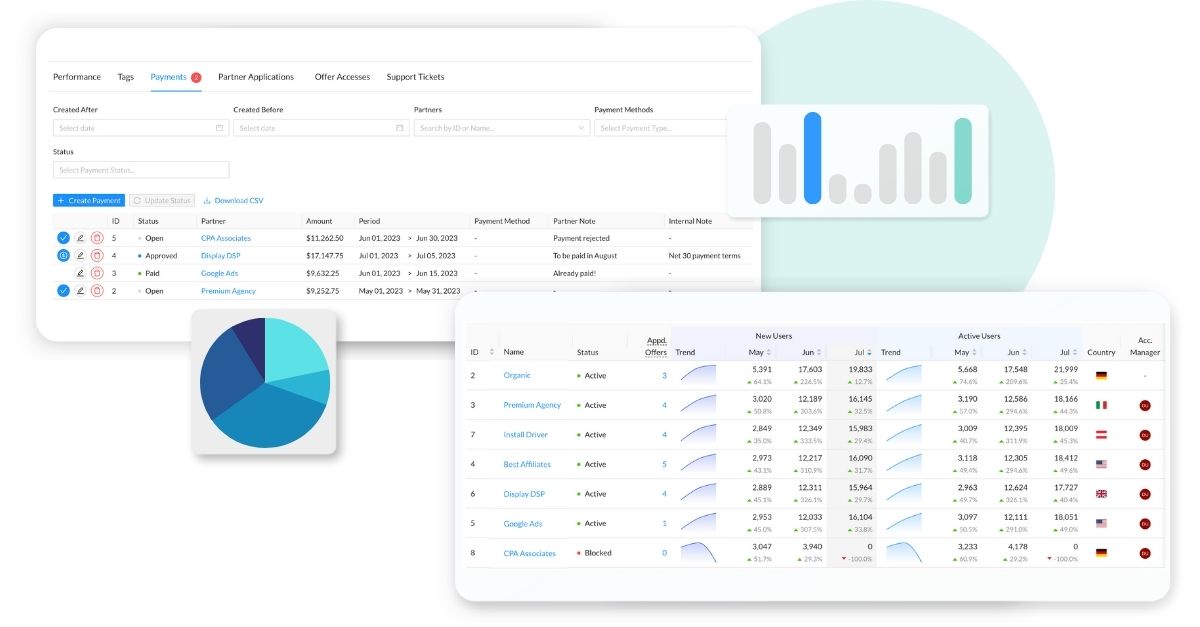 Everything you need to manage your partners
Swaarm MMP empowers you to manage your partners effectively. You can control campaign access, payouts, and budgets all from one platform. This level of optimization ensures that your campaigns run smoothly and that partner payouts and budgets align with your goals. Plus, you can compare your paid marketing KPIs to organic metrics, gaining a holistic view of your app's performance.
Implementation guidance
Integrating the Swaarm SDK is a 10-minute task for an app developer. The library has to be added to your list of dependencies project, and then you're all set to start tracking the app events. Swaarm's SDK not only collects the data needed for attribution but also allows you to collect business data regarding your app. 
Queries like "How many users registered from the ones that installed it?" or "What's the average spend in the app for users that we acquired with campaign X coming from city Z?" can easily be answered by collecting the right events. 
Swaarm MMP stands as an indispensable ally for marketers navigating the dynamic landscape of mobile app growth. Its transparent attribution, privacy-centric approach, fraud protection, and automation tools empower marketers to make data-driven decisions for optimal scalability. 
If you're ready to revolutionize your mobile marketing campaigns and gain valuable insights, don't miss the chance to experience Swaarm MMP in action. 
Book a demo today and unlock the full potential of your app growth journey.