We are thrilled to share that  Swaarm was awarded as a Top 50 Global Tech Startup at the World Festival Startup Awards 2022.
From a pool of 1000+ innovative companies nominated from 130+ countries, Swaarm was selected as a global Top50 Startup Awards winner after the Community Voting round & industry-expert Judging Committee process. 
"We are incredibly excited about this recognition in our industry. As one of the top 50 startups, we know that we have a significant responsibility to continue our path in innovating the performance marketing ecosystem. I also want to congratulate all the other winners and top innovators and thank WorldFestival for recognizing our work and its impact." 

Yogeeta Chainani, Co-founder & CEO
Organized by DevNetwork, the WorldFestival 2022 Startup Award is the world's largest startup awards event (All-Virtual). It recognizes global innovation, with 30,000+ members voting on 5,000+ startups, companies, and new technologies. WorldFestival organizes thousands of judges on the Judging Committees for the WorldFestival Startup Awards, including Venture Capitalists, Angel investors, Corporate Executives, Tech Media & Press, and leading speakers.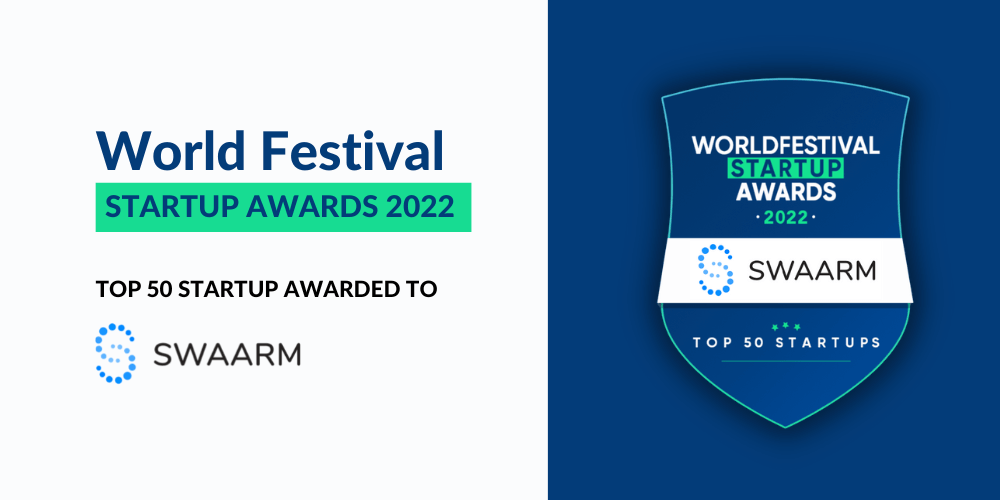 The Event connects companies, people, investors, media, and communities around the world to the top emerging technologies each year.
During the virtual event which took place on the 3rd and 4th of August, our Co-founder and CTO Alexandru Dumitru had the chance to showcase Swaarm and its innovative tracking platform to attendees in a live demonstration.
Swaarm also participated in the virtual Expo: Along with more than 100 emerging technologies and startups, Swaarm hosted an online booth to give the audience the chance to find out more about Swaarm's solutions.
Thank you to our team, clients, partners, and the judging community for casting their votes for Swaarm. We are grateful for this amazing honor of being among the global Top50!
To find out more about us, contact our experts: https://swaarm.com/contact/
About Swaarm
Swaarm is a performance-based marketing platform that provides an innovative martech tracking solution for agencies, advertisers, and partners to manage, track, analyze and optimize their marketing campaigns at scale. For more information, visit www.swaarm.com.