September marks Swaarm's second anniversary, which means it's time to take a moment to reflect on our team's many accomplishments over the past year!
After just two years in business, Swaarm has grown from a small, Berlin-based tracking platform founded in the midst of a global pandemic to a team of passionate software developers, data scientists, and business operators at the top of the industry. Our team has tripled since we started, and now the Swaarm platform is proud to offer marketers across the globe some of the most innovative, performance-based tracking, optimization, and automation tools available — all while maintaining an affordable price point. 
In a year filled with milestone achievements, here are some of the most pivotal points in Swaarm's growth and development. 
Expanding our customer base
Transitioning from a start-up to an established company meant expanding into new markets — and that's just what Swaarm has done over the past 2 years. Additionally to our existing clients in Europe, North America and South East Asia, we are thrilled to share that we are now doing business in additional market geographies such as India, South America, and Israel. As a result of this expansion, Swarm's customer base has grown 5X year over year. 
'Swaarm combines the best features of many other platforms and improves upon them. Their fast customer support, strong servers, and next-level automation features enabled us to work more efficiently and to gain more revenues with less manpower. Swaarm provided us with the tools to analyze data and optimize our campaigns fast and easy all from one dashboard. We highly recommend it!' 

— Alina Dobrzinsky, General Manager at Spyke Media GmbH 
Closed new funding rounds
Since our inception, Swaarm has closed three funding rounds, the most recent of which — led by STS Ventures as well as Ilona van Megen and Rudolf van Megen, Supervisory Board Member of DE-CIX Group AG —  was completed in July.
'We're extremely happy to have the full support from STS Ventures and the rest of our investors. Their investments, coupled with our rapid growth, is a strong validation of our vision, customer-centric approach, and market-leading technology. Since the inception of Swaarm, we've been fully committed to raising our platform's capabilities to support our clients' dynamic requirements and deliver transformative value to their businesses.' 

— Yogeeta Chainani, Co-founder and CEO
Now armed with additional funding, we are able to continue meeting the demands of our rapidly growing customer base — and expand our footprint across the globe. As we accrue new clients, we remain committed to expanding the platform's capabilities to meet users' dynamic needs and deliver added value to their businesses. 
Market-leading products
This significant bump in funding would not have been possible if it weren't for the success of Swaarm's latest product releases. 
Launched in April 2021, Swaarm's Privacy Enabled Attribution (PEA) Chain offers companies affected by Apple's elimination of IDFA an alternative attribution model for ad tracking and targeting. 
Swaarm's automation suite, combined with our real-time analytics platform Explorer, gives clients a competitive edge with powerful analytics tools capable of aggregating large sets of real-time data, providing illuminating insights, and autonomously taking defined actions. Explorer also works to streamline often complex marketing tasks by effortlessly sorting data and performing cross-campaign analysis. On the analysis side, Explorer, with its easy drag and drop function, provides 3X more analytics than other platforms in the market across 50 dimensions and 20 measures. 
Most recently, the Swaarm team has celebrated the triple feature release of an industry-first feed API configurator, view-through attribution, and the AppsFlyer click signing tool for fraud prevention. With these new releases, we continue to provide our clients with the optimal data sets to measure, analyze, and automate their marketing efforts at scale.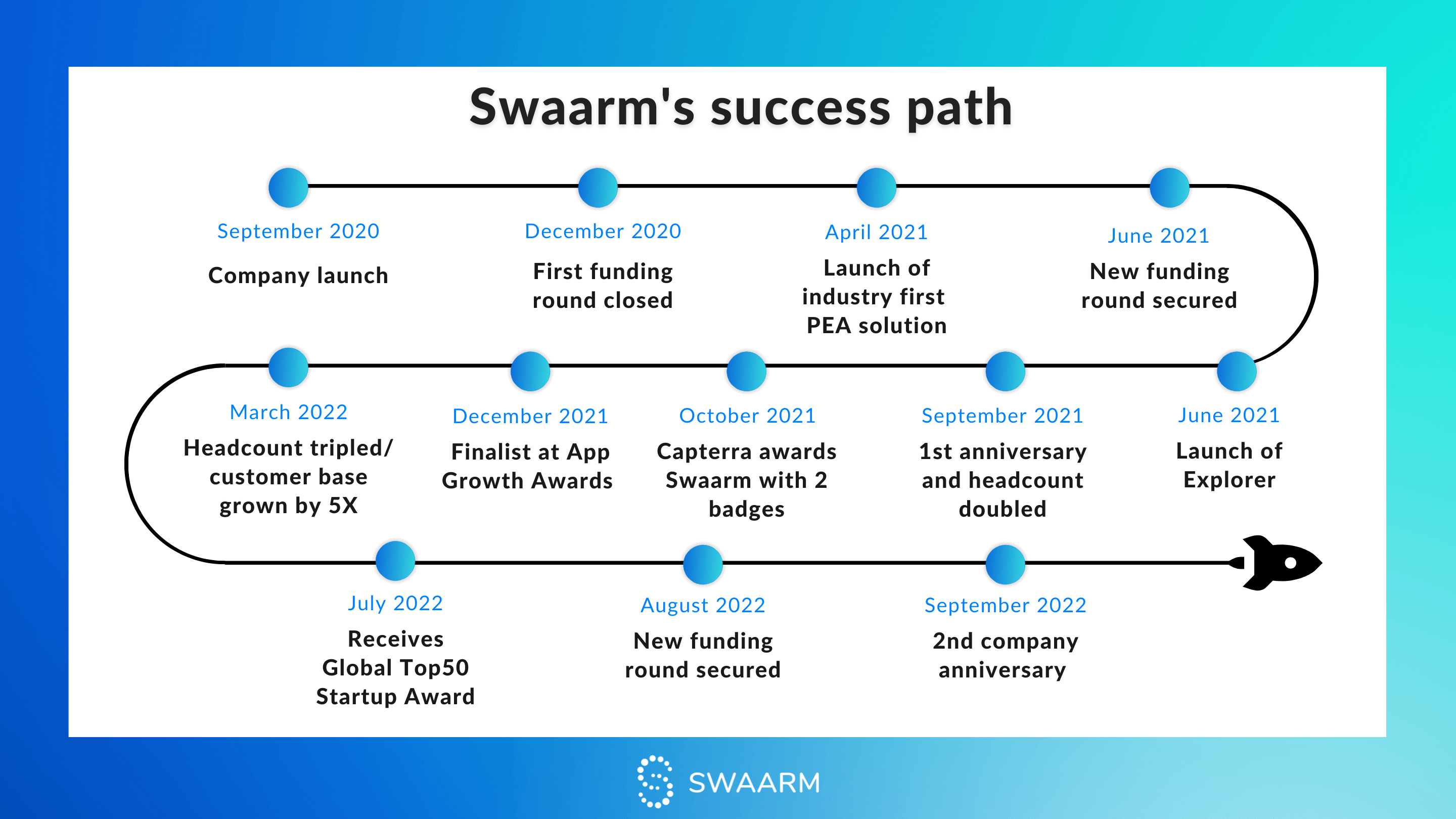 Industry recognition and appearances
As much as we take pride in Swaarm's accomplishments, it's always nice to receive validation from the wider industry. Over the last 2 years, we have been honored to receive several awards and recognitions, including:
A 4.9 rating on

Capterra

and two "Best" Badges for Best Value and Ease of Use

Finalist at the 2021 App Growth Awards in the App Analytics Platform category

Winner at the 2022

Global Top 50 Start-up Awards

, the world's largest startup awards event recognizing global innovation
In addition to receiving these accolades, the Swaarm team was thrilled to once more attend in-person industry events following the pandemic. Be it sponsoring reputable industry events like Mobile Apps Unlocked in Las Vegas or meeting clients and partners face-to-face at events like Affiliate World Dubai, Israel Mobile Summit, and Affiliate World Barcelona, the Swaarm team was present everywhere helping marketers find the best platform to cater to their marketing needs. We certainly look forward to attending more events in 2022, including Martech Asia Summit in Delhi, App Promotion Summit in Berlin, and DMIExpo in Tel Aviv. 
What's on the horizon for Swaarm?
Swaarm's first two years have been filled with learning, growth opportunities, and accomplishments. We hope our next year of business will see similar successes as we continue to grow our team, expand our global footprint, and release new features for our clients. We are immensely proud of the product we have built and will continue to devote ourselves to ensure that the Swaarm platform is the most insightful, intuitive, and affordable solution on the market. 
About Swaarm
Swaarm is a performance-based marketing platform that provides an innovative martech tracking and campaign management solution for agencies, advertisers and partners to manage, track, analyze and optimize their marketing campaigns at scale.
Contact us today to find out how our innovative technology can help you grow your business at scale. Our team of industry experts will be happy to answer your questions.