In this article, originally published by Agency Reporter, Yogeeta Chainani, CEO and co-founder of Swaarm, talked about the common hurdles that digital marketers face and discussed solutions such as marketing automation tools and how they can help marketers surpass all these hurdles.
With the onset of the global Covid-19 pandemic in early 2020, the digital marketing and advertising industry in India witnessed a drastic shift to online content, over-the-top social media engagement and the rise of OTT platforms amongst other trends. Collectively, this led to a behavioural shift, creating new opportunities for brands and marketers. Amidst this, marketers leveraged technology by adopting marketing automation solutions and tools to adapt to the prevailing trends in the ecosystem. No wonder, the marketing automation software arena pegged to be worth US$3.60 billion in 2020, is now  expected to be valued at US$11.46 billion in 2027 (Source: Marketing Automation Software Market 2021)
While currently, 56% of companies use marketing automation tools for social media, email marketing, and SEO (Source: Email Monday), around 61% of companies find it difficult to set up a marketing automation platform (Demand Spring "Marketing Automation Platform Insights" (2021), and 85% of B2B marketers are not using its optimum potential (Source: Oracle Top marketing automation statistics for 2022)
Key challenges which digital marketers currently struggle with in India despite having access to various marketing automation technologies
Budget cuts and scrutiny by CFOs pertaining to investments in marketing automation tools and solutions with cutting-edge capabilities started in 2020 due to the pandemic's plummeting profits and shuttering operations, and companies pivoted to a business model fostering short-term survival and long-term resilience. Adopting martech solutions has been a bottom-up decision, and getting support from C-level executives to invest in martech solutions is still daunting. CMOs must insist on full utilization and start evaluating these technologies' actual value and how they enable business outcomes rather than limiting them.
The lack of a skilled talent pool and upskilling initiatives continues to be a roadblock. Suddenly, having a new tool in their lap can feel overwhelming if marketers are not appropriately onboarded to understand ways of effectively utilizing technology to gain an edge- else marketing campaigns would certainly go in vain.
Another hurdle is for marketers to derive insights as a lot of scattered data bursts from several incompatible siloed tools. Manually copy-pasting between excel sheets to create actionable reports is tedious and erroneous, negatively impacting how marketers collect and analyze data. 20% of them state that complying with privacy and data-sharing regulations is a significant challenge across marketing channels, which, if not addressed correctly, can knock back their analytics efforts, rendering martech investments dead and gone. (Source: Gartner Research Postcompliance Marketing Privacy Challenges and Opportunities)
Nevertheless, companies can tackle these challenges by fine-tuning internal organizational strategies and policies.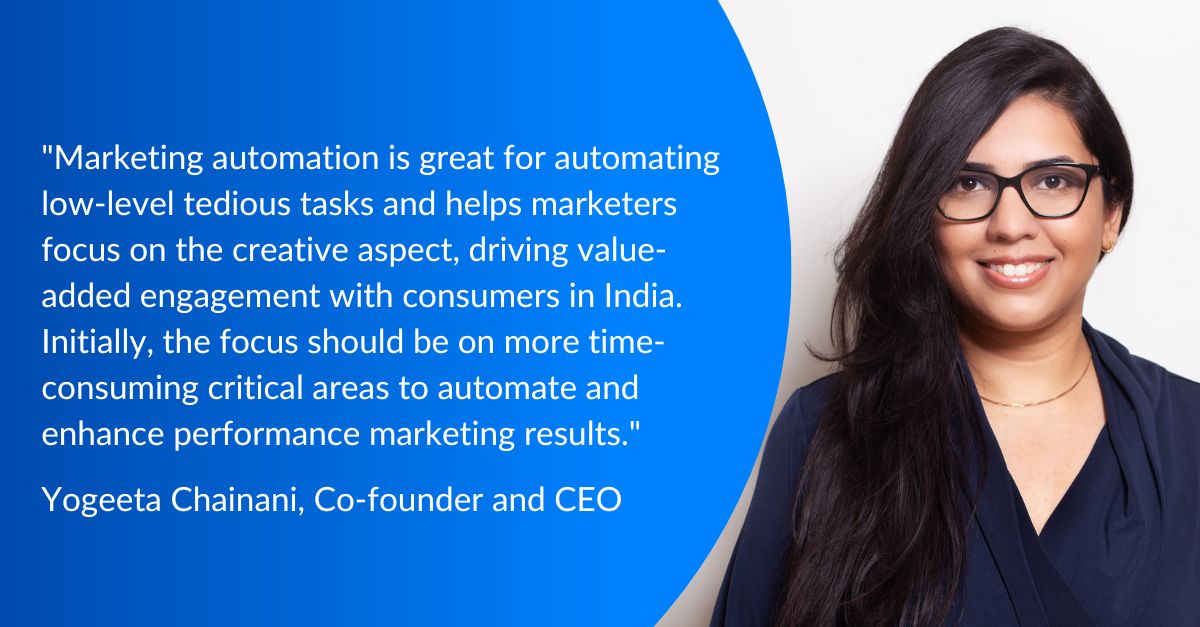 Collaborate with the digital workforce in order to strengthen the adoption of marketing automation
Since investing in martech has become necessary for businesses, CMOs and BDM teams can get the most out of the investment by developing a strong and documented strategy for implementation and ongoing support.
To begin with, they in tandem with HR heads need to create a digital-savvy workforce, train them about new-age software, its features,  and what these tools could do for their marketing efforts, and involve them in the entire deployment process. Such unguarded communication and support would remove challenges during implementation.  Equally vital is to set realistic timelines for such transitions. Marketers must use an automation tool for its intended purpose, remove unconventional tools for a frictionless automation deployment, consider all the resources required, and map out the stages of implementation for user testing, as a tech stack that cannot be used is self-defeating.
While evaluating automation tools, marketers should first choose a vendor that offers unparalleled 24/7 support during implementation, upgrades, troubleshooting, and even training. Secondly, look for an automation tool that provides clean data with proper data warehouse architecture, eliminates deduplication and related challenges, ensures accurate segmentation, and sends better-quality leads for sales, increasing marketing ROI.
The power of strong, coordinated team effort
If the intended use of a marketing automation platform is company-wide, it is critical to have a strong cohesive department effort fostering cross-organization adoption and coordination. The first step is to clearly define goals and objectives, and problem statements for which the new technology should be deployed, coupled with the roles of each department to ensure a smooth rollout of implementation.
Before everyone initiates participation, internal resources should be set in place to address the challenges of product buy-in and resistance to change. Introduce the platform in stages instead of an entire rollout, assisting people in adapting to the change. The martech stack will expand with growing marketing efforts, so start simple and gradually leverage features. Marketing heads should regularly review the performance to check if automation tools are functioning correctly, being redundant, or if any change is required. Innovative tech solutions will provide a smooth onboarding process and customer support to guarantee a personalized and successful automation setup.
Automation in five important ways can increase the effectiveness and scalability of performance marketing strategies
Marketing automation is great for automating low-level tedious tasks and helps marketers focus on the creative aspect, driving value-added engagement with consumers in India. Initially, the focus should be on more time-consuming critical areas to automate and enhance performance marketing results.
Offer Testing: The more offer testing marketers do, the more effective and valuable offers are. Automate this time-consuming process, rely on data, make wise decisions, and present the best version of the brand to consumers.
Campaign Optimisation: Get rid of manual optimization, automate data-driven campaign optimization based on key metrics and performance goals, and scale ad campaigns without spending additional time or money.
Automated Data Insights: Intelligent and automated real-time data helps to drive campaign performance, plan improvements, and recommendations, and deliver enhanced customer experiences.
Partner Program Automation: Automate repetitive tasks of approval, access, and others of a partner program and improve campaign performance, optimize CR, and effectively manage partner relationships.
Automated Alerts: With a single click of a button, partners can be notified of any offer changes and increase partner engagement.
At the end of the day, none of the adoption challenges outweighs the long-term advantages of implementing technology that can assist companies in becoming more agile, making better decisions, engaging with customers, and scaling up the business.
This article was originally written by Yogeeta Chainani and published in Agency Reporter.