In this article, originally published by MediaBrief, Yogeeta Chainani,  CEO and Co-founder of Swaarm, talked about the growing martech industry in India and how performance marketing is the solution to solve many of the challenges marketers face and outlines how Swaarm is helping marketers scale-up businesses by leveraging its services..
Excerpts from the conversation.
Give us an overview of Swaarm. Tell us about Swaarm's suite of offerings.
Swaarm is a performance-based tracking platform that enables digital marketing agencies, advertisers, and partners across geographies to manage, track, analyze, automate and improve their marketing campaigns at scale.
Our intuitive platform assists partner affiliate networks and agencies of all sizes to benefit from the power of automation to expand their business at scale.
The performance marketing ecosystem continues to steadily evolve. We aim to interminably work towards building tools that simplify marketers' day-to-day tasks. For instance, Explorer, one of our solutions, as aligned with our goal, enables marketers to assess and analyze data in real-time more quickly than any other platform.
It addresses their requirements to have access to vital insights for everyday advertising campaign operations.
Through our Privacy Enabled Attribution (PEA Chain), we assist marketers to track campaign and traffic sources along the entire advertising network chain in compliance with Apple's privacy regulations.
Our strength lies in focusing on and aligning product innovations with significant industry developments, particularly those which involve regulatory changes. For instance, we developed the PEA Chain soon after Apple revealed that it would be restricting access to the IDFA on iOS 14.
What are your USPs that differentiate the company from competitors?
Since inception, we have gained the trust and confidence of our clients such as Clearpier, Spyke Media, and Apptrust amongst others, and their businesses around the world. Our strength and key differentiators lie in our ability to stay committed to our four key values which are imitated in our offerings as well.
The setup of automation rules which automates processes that would otherwise require manual intervention by account managers can free up to 40% of marketers' working hours, allowing their account managers to focus on actual value-creating tasks including business development and relationship management.
From personalized onboarding sessions to daily operations, Swaarm provides outstanding customer support services of the highest caliber that compliments the innovative tools and technology to help our clients scale up their businesses.
What's the footprint of Swaarm in India and globally?
Our journey has been incredible since our inception in October 2020. Following a round of funding in 2020, we closed a seven-figure seed funding in 2021 under the direction of  STS Ventures, a global financial institution.
While we are headquartered out of Berlin (Germany), we also have teams operating out of Spain, India, Denmark, and Lithuania which allows us to provide services globally throughout all time zones.
We have gradually broadened our client portfolio which includes leading global brands and boutique agencies including Aragma (India), Vytomy (India), Mobco Media (India/Israel), Clearpier (Canada), Apptrust (Poland), Spyke Media (Germany), and Luns.io (Israel). Our goal is to make our solution available to more marketers worldwide.
How is the martech industry in India? What are your views on the scope and growth of the sector?
The years 2020 and 2021 noticed the growth of digital businesses, especially D2C brands. The mobile marketing ecosystem expanding remarkably at a compounded annual growth rate of 45% to reach $1.9 billion (source- Prabhudas Lilladher) has been transforming rapidly.
Indians used their phones an average of 4.7 hours per day in 2021, breaking the previous record of 3.7 hours set in 2019. These developments caused the proportion of mobile digital media spending to increase from 45% in FY19 to 76% by the end of 2021.
With mobile and web marketing dynamics changing speedily, many digital marketing agencies and networks are working closely with businesses under pressure and with thin profit margins. We foresee marketers prioritizing adopting automation so they may focus on value-creating activities while making the greatest use of the available resources.
What are the challenges marketing leaders struggle with despite access to various marketing technologies today?
By 2024, the marketing automation software market is anticipated to grow at 8.5% and reach a market size of $6.4 billion (source- Marketing Automation Market by Component-Software, Services).
Although over 51% of businesses are already using marketing automation, over 58% of companies have the intention of adopting it (source- Emailmonday).
Even after the COVID-19 pandemic's effects fade, the changes it made to the way we work and live will continue to influence how we behave. The majority of businesses even today are operating on tight margins.
Businesses need to get beyond obstacles like budget allocation for automation and personnel upskilling so that they can collaborate with the digital workforce in order to strengthen the adoption of marketing automation.
Many businesses struggle to secure C-level support for deploying automation tools and making a corresponding investment- which is both critical and in some cases challenging to achieve.
These issues are not just confined to the APAC region but are relatively acute given the massive advances and variety in the area. Marketers are challenged by the linguistic, cultural, economic, and technical diversity in the APAC region.
Additionally, businesses need a strong, coordinated team effort from the main implementers which includes marketing, sales, customer service, and IT, in order to implement marketing automation.
How do you plan to revolutionize the Indian market?
To strengthen our footprint across geographies, we have tripled the size of our global team. For us, India is a crucial strategic market. Even though we have struck a chord with our boutique brands and agency partners in the country, we have barely begun to scrape the surface of India's massive mobile marketing ecosystem.
Expanding our workforce will be a strategic move to stay aligned with our growth roadmap. We are excited about the journey that lies ahead of us as a company.
We'll continue to develop the most innovative platform available in the market by focusing on customers' needs and developing our products around them. We will make sure that our infrastructure is stable, smart, and reasonably priced.
Being a strong proponent in the field of automation and helping scale up businesses…tell us in detail how automation applies in marketing.
The biggest obstacle for any marketer or business often revolves around the complexity of advertising management especially when marketers are managing multiple channels and campaigns than ever before.
For instance, administering 10,000 campaigns across 10 publishers and 10 sub-publishers would require an evaluation of million data points which are often dispersed throughout various spreadsheets/pivot tables.
This consumes valuable time that a marketer should be spending on strategy, planning, and creativity. Growing a business is critical and the right tools are required to scale it up.
More and more marketers in India should consider adopting automation to eliminate all the man-hours spent on monotonous manual processes while creating distinct, value-added user experiences and making user engagement even more connected for their consumers.
Digital marketers can use automation in five important ways to increase the effectiveness and scalability of their performance marketing strategies.
Offer Testing – For advertisers and publishers; offer testing can save both time and money. By identifying faulty or broken links, corrective measures can be taken on an immediate basis to maximize the efforts.
Data-Driven Campaign Optimization – Performance marketing solutions with automated audience targeting based on geolocation, device, traffic type, carriers, interests, and other custom data, can decrease the amount of manual labor and costs based on marketing guidelines, thereby boosting the ROI for advertisers and profitability for businesses.
Automated Insights – Performance metrics give marketers and partners access to tracking and revenue figures in real time. Today's data science tools can automatically reveal patterns, trends, and business opportunities in the provided data sets allowing marketers to enhance their performance marketing initiatives.
Automatic Offer Approval – Unlike other digital advertising channels (like search or social media), affiliate or partner marketing requires the marketer to distribute and accept offers with the partner in exchange for recommending potential clients. Automation now makes it possible to import, create, and accept offers from an extensive number of integrated partners based on predetermined rules, thereby saving tons of time and resources.
Automated Client Notifications – Keeping all partners updated on any changes to an offer is another important aspect of the partner marketing domain. With automation, all of this can be handled by pressing a single button.
Please share client case studies including the positive impact on the client's business; what strategy was recommended and why? 
In order to grow its business during the pandemic when resources were limited, Ads and More, a London-based mobile marketing agency turned to Swaarm when it needed a performance-based tracking platform that offered not only state-of-the-art campaign management and advanced automation features but also a powerful analytics tool to access critical insights to gain a competitive edge.
Swaarm assisted Ads and More with the integration of all the requisite MMPs (Mobile Measurement Partners) like Appsflyer, Adjust, Branch, etc. together with setting up of other advertisers on the platform without any data loss.
With Swaarm's advanced automation suite and powerful analytics tool Explorer, Ads And More boosted their revenue by over 1000% in the first 3 months following the company launch. Since then Ads & More has had constant month-over-month growth, quickly establishing itself as a key player in the industry.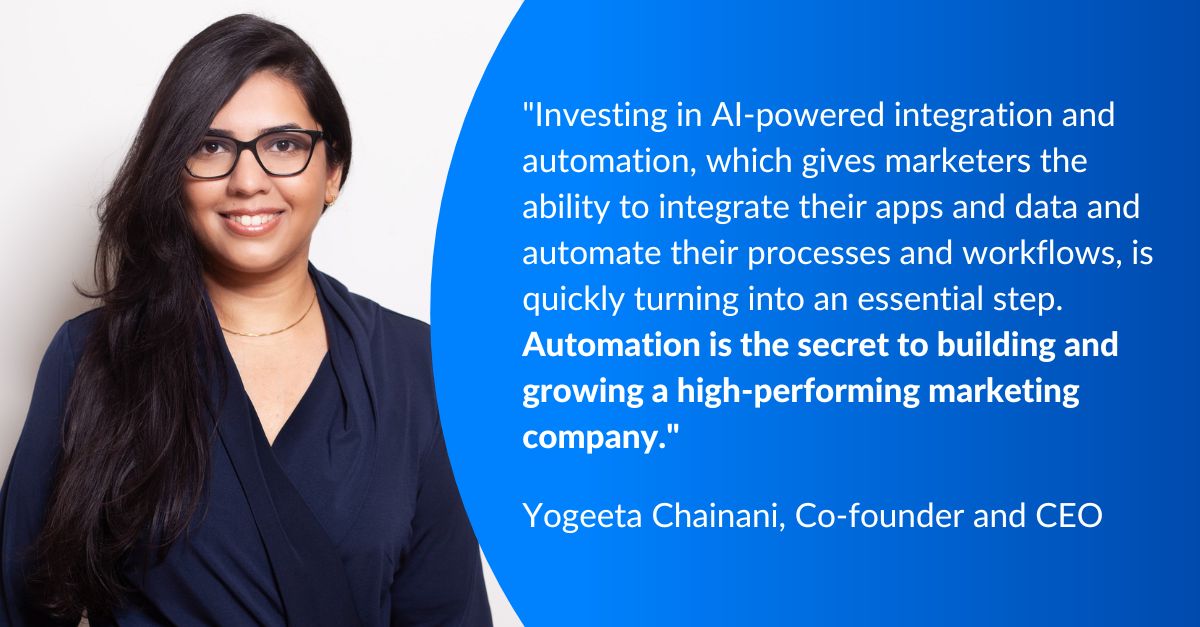 Why should performance marketing be the top priority for startups?
With over 77,000 startups, India has grown to be the third-largest start-up economy in the world. Given the intensifying competition, startups are struggling to make ends meet. Automation can help marketing teams speed up, scale out, and focus on those impactful activities that will drive the business in light of the shifting business dynamics, including changes in business models, operations, or consumer preferences.
It's critical for marketers to build campaigns strategically in order to achieve business objectives. This means selecting the right platforms, advertising formats, and optimization goals, focusing on the appropriate audience, and, of course, developing campaigns that will appeal to the target audience.
Businesses are utilizing automation in performance marketing like never before by aligning their offers and advertising campaigns with the aid of real-time data analysis and analytics.
Investing in AI-powered integration and automation, which gives marketers the ability to integrate their apps and data and automate their processes and workflows, is quickly turning into an essential step. Automation is the secret to building and growing a high-performing marketing company.
How does automation help with ad tracking?
One of the key issues of the mobile marketing ecosystem is that affiliate advertising tracking technology has become primitive which makes it challenging in keeping up with the industry growth. In India, the affiliate marketing industry is poised to reach USD 835 million by 2025, from its present level of around USD 300 million (source-Tata Strategic Management Group's whitepaper, 'Affiliate Marketing in India- The Next Frontier').
Ad agencies rely on tracking platforms for data accuracy, publisher management, and campaign optimization to support them meet their client's targets. The potential of tracking platforms is that they could increase transparency in performance and assist ad agencies in identifying areas of weakness and uncovering opportunities for revenue optimization.
There are five key ways tracking platforms assist affiliate marketers to meet their targets-
Ensuring critical analytics are consistently available on the marketer's dashboard: Tracking platforms should make it standard practice to show all of the crucial data on marketers' dashboards, including gross profit, metrics for comparing success from yesterday to today, and quick access to their hourly/daily/weekly/monthly progression. Analytics software can resolve this industry-wide issue by presenting the essential data on a dashboard, making it easier and quicker to assess performance and take appropriate action when necessary.
Scannable Tracking Links Without a Third-Party Vendor: Affiliate marketers should ideally have access to an integrated tool/ solution that enables them to scan tracking links without sharing data with a third party. When an offer is active, links would be continuously checked to make sure they are reaching a store — saving money by preventing sending traffic to a broken link.
Be Aware Of Your Best Performing Publishers for Optimization: Without knowing the best-performing publishers, it can be challenging for marketers to make informed decisions about where to invest and who to drop confidently. Data analysis and deep insights in real-time are the holy grail. Having a transparent solution that enables marketers to select what they want to filter, segment and measure in order to gain critical insights and improve performance is the golden standard.
Network integrations can help achieve transparency and visibility: Affiliate marketers want to be able to integrate networks and then choose whether or not to approve offers for that network automatically. Additionally, they want to view a feed of offers, evaluate how well these offers from a different network have performed on their platform in the past, and then choose which ones they want to approve. This would present greater transparency and permit them to be more selective with the offers they approve and save time with auto-approvals.
Innovative Automation: Tracking platforms can aid account managers by automating all aspects of routine tasks. They have the ability to accept and block publishers, set click budgets, and conversion budgets, and map the payouts.
How is the martech domain opening up opportunities for skilled workforce?
With a looming recession and marketing dynamics changing rapidly, many digital marketing agencies and networks are working closely with businesses under pressure, with smaller teams that are stretched for margins. Hence, most employers currently want to hire experienced candidates who can make an impact from the day of joining.
The demand for a skilled workforce is higher than ever as it results in strong, sustainable, and balanced growth, and hiring the right talent is an important element to any business's success.
Apart from the skills and the entrepreneurial spirit of a team, a company's growth and success are built also on the employee's willingness to adapt and grow with the company. To accomplish business goals, it is essential to hire experts who share your company's unique vision.
Martech is a fast-paced industry and startups like Swaarm always look for talented, versatile, and proficient individuals who thrive in dynamic work environments.
This article was originally published on MediaBrief.