We are excited to announce that Swaarm has secured a new mid-seven-figure funding round, led by STS Ventures, with previous investors also participating. 
The announcement follows two years of exponential growth for Swaarm. We are pleased to say that Swaarm has established itself as a well-established partner for performance-based marketing in the industry. Since its founding in September 2020, we have grown our customer base by 5x, tripled our headcount, and entered new market GEO's like North America, India, and Israel. 
"Our investment underscores our confidence in Yogeeta and her team. Yogeeta and Alexandru deeply understand the martech market and customers' requirements. Combining their vision and technical expertise, they have built an industry-leading platform and are well-positioned to gain a large market share."

Stephan Schubert, CEO and founder of STS Ventures
Being an innovative company, we do everything possible on our end to redefine performance-based marketing. Many drastic changes in the martech landscape almost uprooted it, especially after the sudden increase in data and privacy regulations. 
The performance marketing ecosystem is in need of solutions that offer complete transparency and the ability to provide real-time data to users so they can make informed decisions quickly. At Swaarm, we are determined to perfect a product that will allow our clients to succeed in this diverse and rapidly changing industry and increase their company's profitability by providing maximum automation capabilities.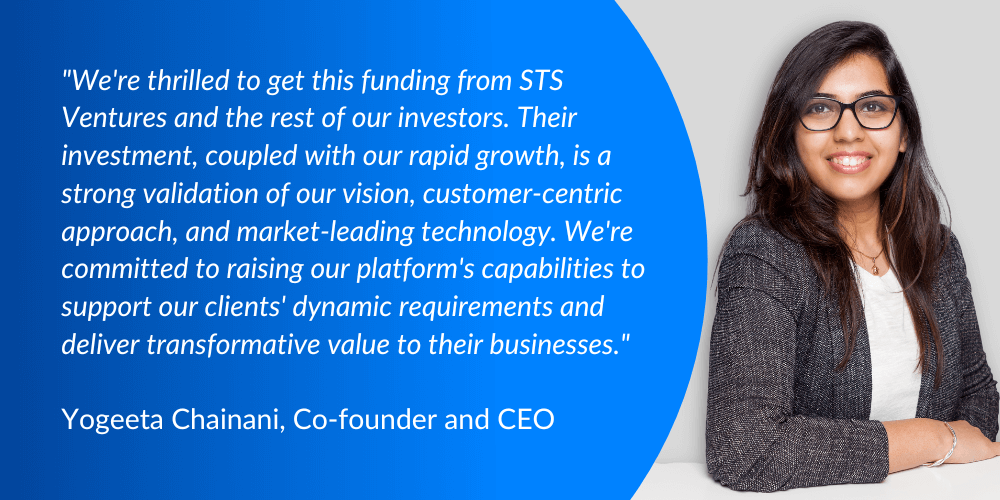 Since Swaarm's inception, our team is fully committed to our four company values:
Through hyper-efficient infrastructure, we provide our premium solution to clients at a reasonable and affordable price 

Achieve customer data reliability with the help of Swaarm's comprehensive data display

Constantly work on product enhancements to extend its flexibility 

Provide a solution that is easy to use and boosts efficiency at work 
We are the first to launch the iOS 14-compliant attribution chain methodology — Privacy Enabled Attribution (PEA Chain). Explorer, our innovative analytics tool, equips marketers with the necessary insights to help increase their efficiency. 
Recently we also released a deeper integration of our product with AppsFlyer so our agency partners can access all required data from one dashboard.
Funding to boost our expansion
The funding is not only a testament to our innovative product but also to our highly committed team. We plan to enhance and scale our platform to meet the needs of our rapidly growing customer base. The Swaarm team is already working on many new features we want to roll out in the upcoming months.
The funding will also speed up the market penetration process as we plan to expand our footprint in the United States and various other regions so we can bring our solution to more marketers around the world. 
At last, we'd like to take this chance to express our appreciation to all of our customers who have supported Swaarm and our mission. We are excited to provide them with even more innovative features and excellent customer support in the future.
About Swaarm
We are a Berlin-based, privately-held company that has set a new benchmark for performance-based marketing. Marketers can use our platform to manage, analyze, optimize, and track marketing campaigns. Our product, Swaarm, will help you get a competitive advantage over others and boost your business growth.
Want to learn more about our product — request a demo here. 
Read the official press release here: https://www.prnewswire.com/news-releases/swaarm-secures-new-round-of-funding-301598629.html?tc=eml_cleartime