We are excited to share the good news that Capterra, the leading global software discovery platform, awarded Swaarm the "Best Ease of Use" badge for the second year in a row. Capterras Best badges are based on verified customer reviews on their platform, and we are honored to be recognized.
What is Capterra?
Capterra is a free online marketplace that serves as the mediator between technology vendors in the software industry and potential buyers. It is the world's top software review and selection platform, and it assists companies and potential buyers, select the right software that fits their requirements by checking the user reviews from actual customers. 
There are almost 1.5 million+ validated reviews over 800+ software categories in the platform. The validation of all reviews is a vigorous process to ensure the highest quality. The "Best" badges are awarded by Capterra to outstanding software providers, and they help potential clients easily recognize the highest-rated products in a specific software category.
How do our existing customers feel about Swaarm?
End-users can make an informed decision and recognize the best software based on specific attributes and features. We are proud and happy to receive the badge for the second year in a row. It stands as a testimonial of how our customers feel about their Swaarm experience.
"I like a lot of things about Swaarm, mainly it is their support team that helped me 100% on the cases I had. Additionally, the dashboard contains all the information you need for a quick check. It is indeed a great experience on the reporting side as well, campaign optimization, and many, many others."

Luliana P.

CEO
One of the reasons why most of our customers love our product is that we keep enhancing it. Since the founding of Swaarm, our team has been working rigorously to make the platform even more advanced, and we have introduced many new and edge-cutting features for our clients. One of the major updates was the launch of our Privacy Enabled  Attribution  (PEA  Chain), with which Swaarm led the market by launching its iOS 14-compliant attribution chain methodology.  Our analytics tool, "Explorer," provides marketers with insights to improve the efficiency of their operations. Recently,  we introduced a  deeper integration of our product with AppsFlyer, enabling agency partners to access all the data from a single dashboard.
"User-Friendly Platform. My overall experience has been very good. It is very easy to implement with ad networks. I like the ease of use of the software. The dashboard is easy to navigate and self-explanatory."

Supriya S.

Senior Supply Manager
The amazing feedback and reviews we receive from our clients indicate the trust and confidence we have built with our customer base over the past 2 years. It also means our software is easy to use and offers flexibility and data reliability. You can read all the reviews we received directly on our Capterra profile page.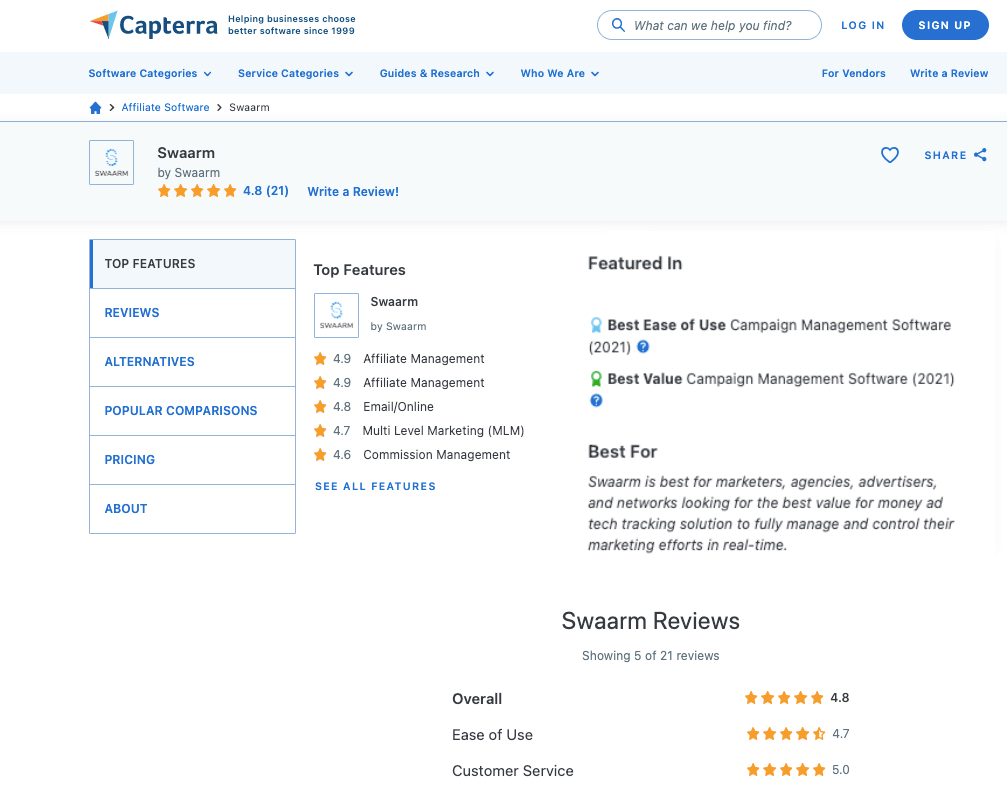 Since this is a massive accomplishment for us, we are thrilled to share this news and our solution with marketers across the globe. We will continue to do our best to enhance our product and develop many more new features to tackle some of the most complex issues that marketers face. Innovation is at the core of our efforts. 
While we continue to make our platform even smarter, we will also ensure that our product is the most innovative software of all available options while keeping our customers' needs in sight and building the product around it. 
About Swaarm
Swaarm is a performance-based marketing solution that provides an innovative martech tracking platform for advertisers, partners, and agencies to track, manage, optimize and analyze their marketing campaigns. To learn more about us, request a demo.