In the fourth quarter of 2021, Statista states that around 54.4% of global website traffic came from mobile devices. So more than 50% of the worldwide web traffic comes from mobile devices and the figure is not only consistent for the past several years but is also growing year over year. Moreover, the revenue of app stores in 2021 accounts for  85.1 billion U.S. dollars. Google's Play Store alone has seen a spike of 23% from the prior year. The numbers prove that marketers should do everything possible from their end to reach the ever-growing mobile user. Mobile marketing automation can play a crucial role in helping marketers to ensure that they will be effectively reaching those mobile users. In fact, a lot of marketers are using mobile marketing automation for better user engagement.
While the market is quite lucrative, it is also competitive. Companies' growth strategy should focus on three key factors —user acquisition and user retention/ engagement. Unfortunately, not all businesses focus on these major aspects. The biggest challenge is to keep a balance between user acquisition, user retention, and engagement. The biggest mistake that many  companies make is spending most of their energies and bucks on acquiring new customers instead of also putting an equally important emphasis on engaging existing users for cross and upsell opportunities
This year, mobile marketing automation (MMA) will take app marketing by storm. It will be one of those trends that marketers should keep a tab on if they want to succeed. Understanding MMA will help you understand how you can use it to increase customer engagement. You have to spend around 6 to 7 times more money if you want to attract new customers. 65% of companies are able to cross-sell products to their customers. 
What Is Mobile Marketing Automation or MMA?
MMA or mobile marketing automation uses smart tools and templates that companies can use to communicate with their customers/users. You can use a set of rules to direct the outcome of your marketing campaign and whom you would like to target. Marketing automation makes repetitive work redundant, streamlines workflow, and gives marketers more time for more important tasks e.g. thinking about a re-engagement campaign. By segmenting the user base, you can then – based on the user audiences –  personalize your messages to them. You can send a specific campaign to a particular user audience based on their app activity, interest, or previous behavior or purchases. 
Once the marketing campaign manager defines the rules, they can launch campaigns whenever they want. Of course, there are traditional marketing automation platforms. They were built specifically to target customers that use desktops only. 
These platforms are an excellent source to collect and collate data such as location, device type, and browsing habits. However, unlike mobile marketing automation platforms, they cannot send in-app messages or push notifications, or track events across mobile devices and apps 
"The mobile phone is used from when you get up in the morning and is often the last thing you interact with at night." 
The best part about mobile marketing automation platforms is that they can do all the tasks that a traditional marketing automation platform can perform. Apart from that, you can create user segments using these crucial user properties. 
Marketers now have the liberty to set up and launch one or multiple actions to the user base, their in-app friends, or their referrers. Some of the activities you can perform using these platforms are sending an in-app or push notification or scheduling an email or SMS. Because of these benefits, there are a lot of marketers using mobile marketing automation for better user engagement. 
3 Ways to Use Mobile Marketing Automation for Better User Engagement
While there are so many excellent ways through which you can engage with your user base. Here are some ways through which you as a marketer can increase customer engagement: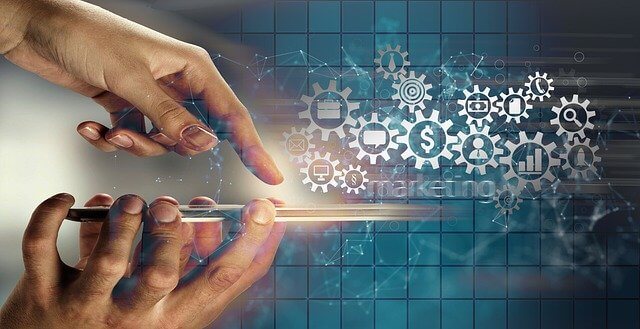 1. Use Email Marketing to Nurture Audience and Send Personalized Content
Using mobile marketing automation tools, marketers can send both simple emails and a set of complex emails. You can build email sequences and send a series of emails to the target audience.  
You can customize and send emails to the target audience using predefined triggers. Demographic data, behavior, or other criteria can differentiate your user segment. 
Besides that, mobile marketing automation software allows you to send simple emails such as the following:
Send a special discount coupon or voucher on a birthday or an anniversary.

Send an email to customers that abandon the shopping cart without proceeding forth to make a purchase

Send customer survey forms to customers to collect feedback soon after purchasing. It will help in understanding the customer experience and customer journey. 
Mobile Marketing Automation platforms give superpowers to marketers. They can send the right message to the customer at the right time to get the best results. Conversions can increase dramatically with email marketing automation. The only thing you as a campaign marketer should keep in mind is regularly updating the old material to make it relevant.
2. Audience-Based Automation Flows
It is one of the most effective ways to keep or increase customer engagement. You will group customers into different segments (user audiences). The campaign starts as soon the user enters into a particular user segment. Data attributes refer to customer behaviors such as purchase behavior, app sessions, and in-app event. You can schedule to run it every hour or once every month. 
(I) Re-engage Inactive Users
Customers can churn off if they are not using the app for more than seven days. All the inactive users can fall into a specific user segment. You can use an automation platform to run a campaign to prevent this from happening. Win your customer back by sending a push notification or providing them with an offer through an in-app purchase. 
(II) Reward the Users to Boost Motivation
By keeping people motivated, you can take things to the next level. Using mobile engagement automation, you can give the necessary motivation to your users to come back strong. 
Give rewards to your customers to make them use the mobile app again. For example, give an excellent discount coupon if the user refers your app to five of their friends. 
Since it does not require effort, many people will quickly respond to such messaging. Businesses should have an excellent rewards program to make it work for them. 
3. Event-Based Automation Flows
Engagement campaigns pull off immediately after an event has taken place in the app. The MMA platform does not use historical data to launch a campaign but uses real-time data to run it. 
For example, if a user purchases $200 worth of items from your app. You can send them a discount coupon immediately if that is the set criteria for winning a voucher. Here are some other examples of event-based automation flows.
(I) Notify Users About Their Friend's Activity
If you are a game developer, engaging your users can definitely get you the best results. Your customers will be eager to use your mobile app when you notify them about their friends. Let them know how they are progressing in the game or what their friends are doing in the app. It is human psychology that people become curious and intrigued to see their friends do something on an app. 
Using a marketing automation platform, you can nudge your users about what their friends are doing. The results will be phenomenal. You are going to raise user engagement beyond your imagination. 
(II) Reward the Referrers
If you are running a referral campaign, notify your users when their friend starts to use the app. It is an excellent way to draw user engagement—some apps pay off their customers when their friends do some activity like shopping on the mobile app. Nudging your app users with this information then becomes critical. 
In Conclusion
If most of your customers or prospects use mobiles, investing in mobile marketing automation and adding it to your marketing mix is definitely the right thing. 
Automate your marketing efforts as your database expands to get the best out of it. Besides increasing user engagement, you will improve user retention.